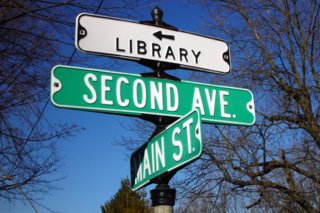 Meredith, the blogging librarian from Vermont has posted a worth while read -
Brilliant Failures
- reflecting on her experiences trying to impliment web 2.0 technologies in her workplace.
I'm definitely more cautious now about trying new things. In my excitement to make a difference and in a climate where I was basically given carte blanche, I think I tried to do too much too quickly. Now I know that just because you can doesn't mean you should. I'm only going to try things where there is a real need (and not one only I see) and where the population is ready for what I'm trying to offer them.
Meredith is lucky to have a boss who will let her try out these things, and even let her blog her reflections on successes and failures.
Doug Johnson pointed me to Meredith, with his own post on
learning from failures
.
I'm still thinking about my failures, or too busy setting myself up for the next one. For me, reflecting on failures is a deep hole, as I never feel satisfied with the reasons or ideas popping out of them. But reading Meredith and Doug's posts has helped me out a bit...
This work is licensed under a
Creative Commons (Attribution) license
.